David Bellamy specialises in painting mountain and wild coastal scenes, and is particularly fascinated by the moods of nature in the wild places. A full time artist and author, he has written seventeen books illustrated with his paintings and eight dvd's on David's techniques in watercolour have been produced by APV Films.Through his painting and writing he hopes to bring about a greater awareness of the threats to the natural environment, and he is particularly active in conserving the wild areas. He is currently campaigning to preserve his beloved Welsh Hills from the scourge of Wind Turbine Developments.
*********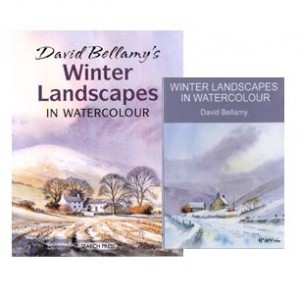 David's latest book and DVD
'Winter Landscapes in Watercolour'
will be available from 8 September 2014
A special offer of the book and dvd is available in our shop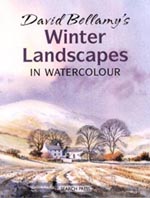 The Book – The winter landscape presents us with a particularly beautiful time for painting, when the lack of leaves reveals the graceful lines of bare trees, the fascinating textures and colours on their trunks, and low, directional sunlight throws shadows across our subjects and seems to bring them to life. Gone are those all-enveloping greens, to be replaced by a greater variety of colours, often warmer and more exciting. The wine-red branches of birch trees, for example, when seen in a mass exude a powerful beauty of their own.
The book begins with the stunning warm colours of late autumn, then moves into the second section covering winter scenes without snow. The following deep mid-winter section shows you how to tackle snow scenes with various types of snow conditions, before we move on to the final section covering early spring.  There are also  four step-by-step projects.  Also covered is gearing up for working outdoors in winter, techniques for rendering hoar frost on trees, misty and atmospheric effects, injecting rogue colours and much more. For those who really don't wish to venture out there is a whole host of examples of winter landscapes to help you tackle this fascinating time of year.
The book is published by Search Press and is in paperback, 80 pages, including  4 step by step projects. You can read a review by Henry Malt  Price £9.99 (see offer below)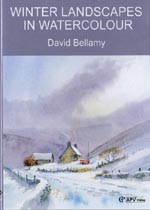 The DVD was filmed in the Brecon Beacons and North Staffordshire, in this new DVD I sketch on a winter's day alongside and canal and paint a  cascading waterfall.   I then find stunningly beautiful snow conditions and sketch a variety of subjects including cottages, trees, water, atmospheric skies and a fairy tale castle. Finally in the studio I work up one of my sketches into a finished watercolour. You can see a clip of the film here, and a review here. This new DVD is 90 minutes long and is the eighth in my popular series of films from APV Films. It complements the book of the same name. (above) Price £27.95  (see offer below)
SPECIAL OFFER—The book and DVD, Winter Landscapes in Watercolour have been produced  as companion publications and are available  at a discounted price of £35.00 plus postage on our website www.davidbellamy.co.uk or by post using this printable order form