DAVID BELLAMY'S SEAS & SHORELINES IN WATERCOLOUR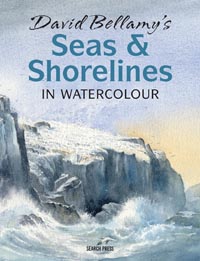 David's guide to painting seas and the shoreline is aimed to inspire those who love painting coastal scenery, and to provide a comprehensive practical companion to students. It is crammed with techniques, ideas and moods, with a wealth of subject material from locations in Britain and abroad. In this book he pushes watercolour techniques further by combining the medium in places with collage, mono-printing, watercolour additives and the addition of textural mediums. These not only enhance your work but give you alternatives for creating rock and cliff structures, netting, foreground textures on sandy beaches and various ground features.
Capturing the movement of the sea and those elusive white splashes and sparkles can be extremely effective, and these aspects are covered in depth, adding greater authority and appeal to your work. As usual, David provides a huge variety of skies in all their amazing moods and colours, which you can adapt for countless compositions of your own. Subjects include beaches, cliffs, waves, the surf, boats, harbours, estuaries, tranquil scenes, storm-tossed coastlines, observation methods, sketching on location, pen & wash, composition, working from photographs, figures, birds, subjects out at sea, and painting on holiday. There are four stage-by-stage paintings included.
    The book is aimed mainly at those with a little experience with watercolours, but beginners will also find it invaluable. It is the last in the series of four practical books, and contains 96 pages, so it is a little larger than the others. Henry Malt in www.artbookreview.net comments:  "This is David's best book in a long time…..the results are stunning"     To order a signed copy click here