With an intrepid group of painters we made an epic journey almost the ends of the earth in January 2006. The Torres del Paine National Park in Southern Chile is probably the most pristine wilderness in the world. The empty miles of pampas are populated mainly by Guanacos, Rheas, Flamingoes and Condors. We included many activities in this expedition, including horse riding, kayaking and trekking.
_____________________
We began with a visit to the Penguin colony at Otway sound and then spent the next 10 days in the Torres del Paine National Park. On one of the trekking days we battled with the incredible wind. Many of us were blown off our feet several times and a simple river crossing became an exercise in survival techniques. None of us will ever forget the sound of the wind screeching down from the glacier, scooping up gallons of water from the river and spewing water mixed with grit at us, drenching and stinging us as we tried to hop from boulder to boulder without being blown over.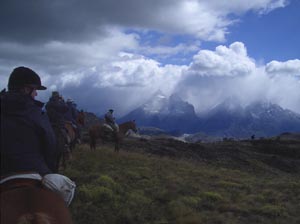 On some of the horse riding days we had spectacular views of the Torres del Paine massif.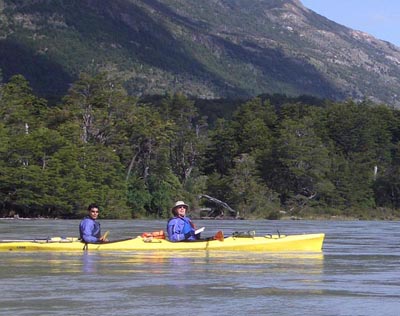 Luckily David had one of the guides, Alexis, in his kayak other wise he would not have got far paddling with that pencil!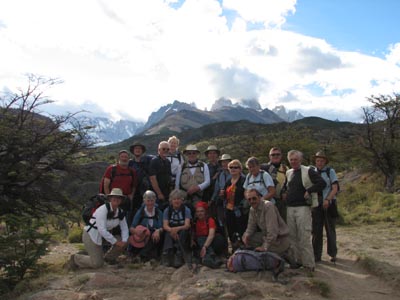 The Patagonian trekkers, intrepid painters in the Fitzroy Mountains of Argentina
We rounded off our Patagonian adventures with a visit to the Fitzroy Massif in Argentina, a magnificent range of towers and pinnacles. On the morning we left they were bathed in early morning sunlight, quite breathtaking.