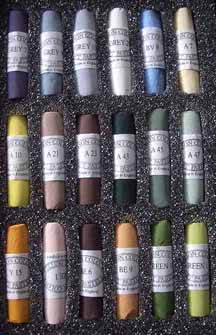 Unison Pastels
Jenny has asked Unison Pastels in Northumberland to box up her favourite landscape colours into this set of 18. This is a great starter set, from which you can produce complete landscape paintings.
The colours in the set are:
Grey 7, 9,10, 28
Blue Violet 9
Additional 7, 10, 21, 23, 30, 43, 45, 47
Yellow 15
Brown Earth 9,
Green 14, 17
Red Earth 7
To purchase the pastel set click here
In combination Fisher 400 Art paper,  these pastels are excellent for creating both vibrant colours and subtle tones. The sandpaper surface of Fisher 400 is made specifically for pastel painting. It is archival and acid free, and the high tooth gives you the perfect surface for pastel painting.
Fisher 400 Art paper is a superb surface for pastel painting. I've been using it for some years now and rarely use other supports for pastels as they all lack the tooth and holding quality of Fisher 400. It
is archival, colour fast and waterproof which gives me confidence in the long term survival of my paintings and encourages experiments with
mixed media.The benefits of painting pastel onto sandpaper are numerous. The amount of dust in the air is reduced considerably; the colours are more vibrant than on other supports due to the reflective quality of the particles; drawing over an already painted area with pastel or charcoal pencils is very successful because the tooth is not compromised; blending and softening or creating sharper lines and finer detail are equally effective on this surface.If you paint in pastel you really need to try this paper. Using it has transformed my work."
********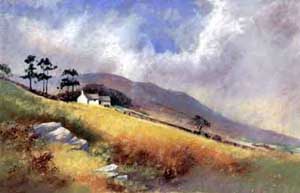 Pastel is a lovely medium for creating wind torn clouds. In this painting I have done very little blending, apart from some parts of the sky and the distant hill, consequently some of the paper shows in places. This gives an interesting texture, especially in the foreground.
The colours used are all in the starter set and the surface is Fisher 400. I used a sharp charcoal pencil for some of the fine detail.
To purchase Fisher 400 Artpaper click here 
Many people ask me how I achieve the very fine detail in my work when the pastel sticks are so thick and clumsy.
Colours shapers are very useful for manipulating the pastel on the paper. The flat chisel shape is wonderful for tidying up scruffy edges and for many other purposes. The most useful sizes are No2 Flat chisel and No 6 Flat Chisel.