The trip to South Africa in 2007 was not one of our strenuous trips, in fact it was luxurious in the extreme. Our first location was Cleopatra Mountain Farmhouse in the Drakensberg Mountains. The award winning owner/chef Richard Poynton regaled us each evening with mouth-watering descriptions of the evening's menu and he did not exaggerate. Our meals were accompanied by the singing of the weaver birds outside the dining room window. They made fascinating sketching models along with the surrounding crags and peaks.
We moved to the Cathedral Peak area further into the Drakensberg range and visited some of the cave paintings of the San people.
The birdlife in the gardens of the hotel and nearby was a delight and although painting birds was not one of our main objectives they were impossible to resist
As climbing to to top of the Drakensberg mountains was not an option on this trip we took a helicopter ride to the get a breathtaking view of the peaks and ridges. As we were taken up two at a time in relays we had over two hours at the top, plenty of time for sketching as well as drinking the champagne included in the cost of the helicopter ride. Jenny has come to the conclusion that this is the best way of getting to mountain tops for the future but David is worried about the cost!
From Cathedral Peak we moved to Three Tree Hill Lodge which was designed to replicate a colonial farmhouse and very comfortable it was. We explored the Boer War Battlefield of Spionkop Hill and the Spionkop Game Reserve. We were well looked after by the staff at Three Tree Hill, many of whom were Zulu and we felt like part of the family. On our last night they treated us to some of their tribal songs and spectacular dancing which was so good it would have gone down well in the West End of London.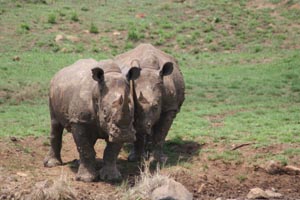 In the Spionkop Game Reserve these two Rhino slowly got closer and closer until finaIlly we had to jump quickly into the bus!
The two Rhino were only about 50 yards away when David finally got back into the bus!
Our last port of call was Fugitives Drift Lodge from where we explored the Zulu war battlefields of Isandlwana and Rorkes Drift. The lectures given on site by the talented staff of Fugitives Drift were so well presented that it was impossible not to feel moved by the tragic story of this all but forgotten war.
Understandably this part of the trip had been planned with the men in mind but all of the women on the trip were gripped by the stories, and no one was left unmoved.
We finished our journey to South Africa with a visit to the Hector Peterson Museum and Nelson Mandela's house in Soweto. This brought to end a trip that was both thought provoking and rewarding.
We travelled to South Africa with The Ultimate Travel Company who have organised many of our overseas trips. We can highly recommend them