An exhibition of watercolours on the upper River Wye by David Bellamy
At Erwood Station Gallery and Craft Centre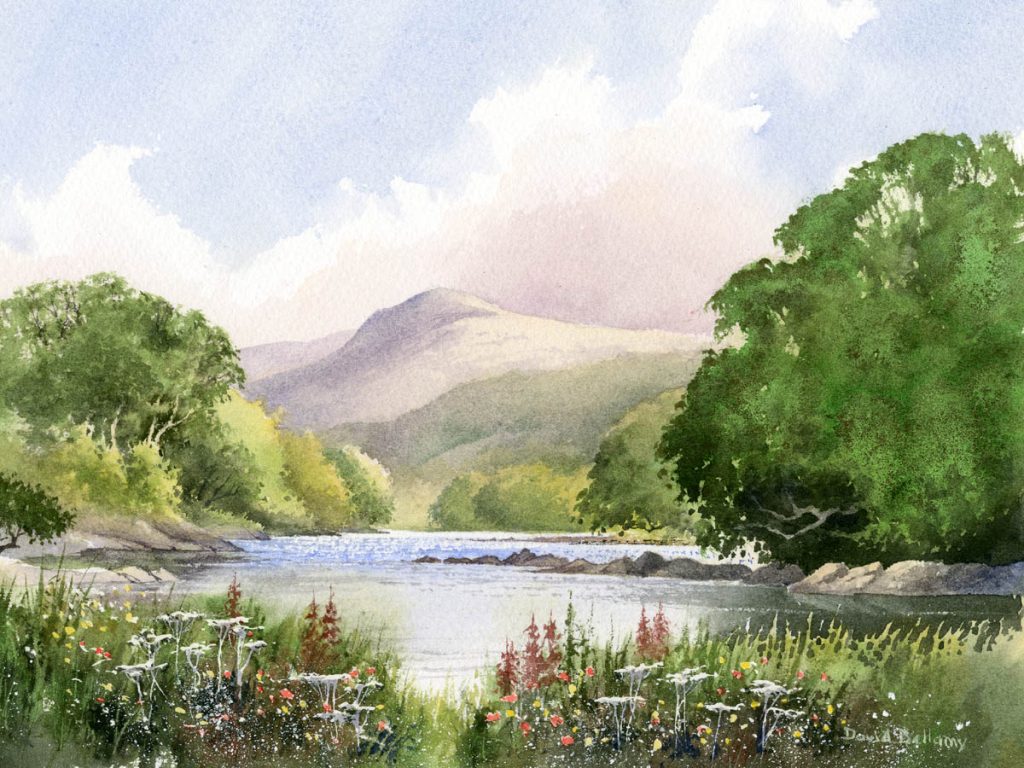 The exhibition covers that part of the Wye beloved by the 19 th century Welsh
artist Thomas Jones, a contemporary of JMW Turner, where in places it cascades over
rocks, glides serenely beneath Aberedw Rocks, and flows past woodlands amidst
some of the most beautiful scenery in Powys. The paintings reveal the river in its
many moods throughout the seasons. Having sketched and painted it for some thirty
years David enjoys it all year round, although summertime is the most difficult, as he
often has to hack his way through undergrowth sometimes seven or eight feet high to
reach a decent vantage point, ending up looking as though he'd been dancing with a
leopard with all the scratches on his legs. On one occasion while working with the
army, sketching a patrol practising river-crossing he needed to get out into midstream,
slipped and tumbled into the Wye. He got thoroughly soaked, but managed to prevent
his sketchbook going under as well. Some of the subjects involved stalking herons to
introduce wildlife, and to his delight on one outing he sketched close to no less than
three heron.
The exhibition is also aimed at highlighting the current threats to the river
from pollution, much of which is caused by intensive poultry farming in Powys, while
the Welsh Government, Natural Resources Wales and Powys County Council drag
their heels in tackling the issue, even though urgent action is needed to prevent
disastrous consequences to the ecosystem. The Station will be holding an Eco-
Awareness Day on the Sunday 24 th (World Rivers Day) with the main focus being on
the health of the River Wye. Multiple organisations such as the Campaign for the
Protection of Rural Wales, and Save the Wye, will be in attendance alongside a
variety of workshops, a local choir, and a performance from the Goddess of the Wye
herself! All with the aim to highlight these threats. The exhibition runs from Saturday
23 rd September until Sunday 15 th October and is open daily from 9.30 to 5pm.
David is delighted to be back exhibiting at Erwood Station, which now has a
wonderful new lease of life under Jenny Smart and her family, a haven of peace and
tranquillity where you will be made welcome and can enjoy a cappuccino and a cake
while watching bird life through the railway carriage windows, or wander by the
river. Well-known for his mountain, desert and Arctic paintings, David likes nothing
better than to relax amidst nature in Powys after working in some of the world's
remotest places. His work is in the collections of Sir Chris Bonington, Sir David
Attenborough, Princess Jennah Bint al Ghazi of Jordan, the author Bill Bryson,
among others. He has written 22 books illustrated with his work, produced many
how-to-paint DVDs, and he also collaborated with the National Gallery for the
Thomas Jones bicentenary exhibition in 2003.
David will also be giving a watercolour demonstration and talk on painting
river scenery at the centre at 7pm on Monday 25 th September. Entry is by tickets
booked in advance, and proceeds go to CPRW. "Supporting CPRW is vital," says
David, "their professionalism and care for the Welsh rural environment contrasts
sharply with the muddled and indifferent approach of those in authority." For
information on the exhibition and demonstration telephone 01982 560555 or email
erwoodstation@hotmail.com