Spring is always a great pleasure in Mid-Wales: buds are springing out, daffodils caught in the spring sunshine invoke a joyous feeling as they are set against the sparkling water of the garden pond, while the birdsong is especially uplifting at the moment. The frogs have come and gone after their annual orgy in the pond, their massed croaking drifting into the house in waves of communal ecstasy. The sparrows are forever darting about, but with the mating season in full swing they are pretty aggressive: at times the undergrowth is waving about madly with their exertions! All this I see from my studio window, as well as the new-born lambs gambolling around in the field next door.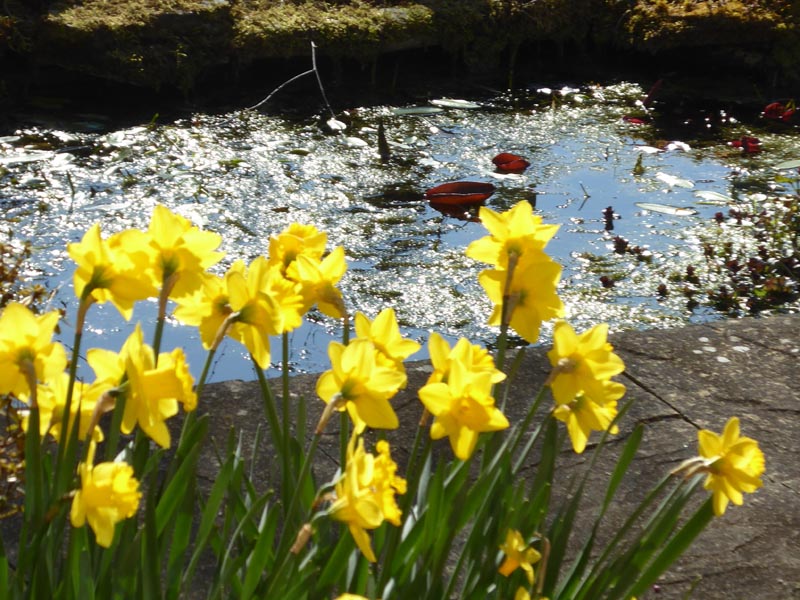 All this seems utterly surreal given our present predicament with this nasty virus, but as artists we are lucky to have an occupation or hobby that transports us to other worlds, if only for a brief period. Your response to my last blog post was so rewarding and I'm glad so many of you found it helpful. I've just completed a deadline for my book on Landscapes Through the Seasons, so while I am still working on another book, I now have more time to push out blogs that will hopefully give you some ideas during this difficult period when we have to self-isolate. Although I am mainly a landscape artist I will try to cover a number of genres to provide as much variety as I can, including imaginary subjects and maybe even fantasy – we all need a little fantasy now and then. I know many of you are flower painters, for example, so why not start there?
    Flowers and still life are obvious subjects to fall back on when we are house-bound. My work on flowers is almost exclusively on wild flowers as part of a landscape, but I did touch on cut flowers in my book Complete Guide to Watercolour Painting. If you are painting a vase of flowers pick out one or two blooms that stand out and play the others down slightly by losing edges and running colours into one another. Suggesting background shapes with a plain, shadowy wash can accentuate a sense of depth in the composition, and introducing some spatter effect as I've done round some of the edges in this watercolour, gives a sense of spontaneity and life. You don't always need a background but if you do include one then play it down so that the flowers take pride of place. A simple suggestion of perhaps the edge of a table can also set it up well. Saunders Waterford high white is an excellent paper for flowers as its white is so brilliant, and Bockingford is a good alternative.
Those without a garden may find it difficult at the moment, unless you have a window-box. Now, of course is the time to set seeds so if you are bereft of window-boxes or flower baskets try to get one, even if you have to rely on a rusty old bucket – sometimes these decrepit old things can have far more character than the latest gleamingly spotless container. Plant a few seeds and before very long you will have new subjects to work on, but don't ask me what to plant – unlike my late namesake Professor David Bellamy or my brother Malcolm, I'm not a horticultural expert! Also consider getting miniature trees and exotic plants.
More tips and ideas soon, and maybe I should shortly do one especially for the lads, perhaps on how to paint the Cold War era Soviet T-64 main battle tank in action, although I doubt that many of you will have one of those in your garden……. Keep safe and keep painting!