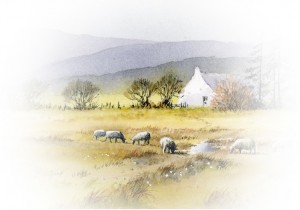 Animals & Birds in the Landscape
At   Old Barn Hall, Great Bookham, KT23 3PQ
Wednesday 28th October 2015

Doors open at 10.00 a.m. for discount
SALE of art materials, books etc.
Demonstration starts at 11.00 a.m.
Break for lunch between 12.30 p.m. and 2.00 p.m.
Slide presentation starts at 2.00 p.m.
Live watercolour demonstration by David Bellamy,
followed by an illustrated talk on including animals and birds in your landscape paintings.
Copies of David's new book and DVD
 'Winter Landscapes in Watercolour' will be available
Put the date in your diary. Tickets available here.

Also visit David's exhibition
Shorelines and Summits
at Lincoln Joyce Fine Art
(opposite the Old Barn Hall)