I've at last managed to see my grand-daughter after nine months…..far too long a time, but the re-union was a wonderful moment! Bit exhausting as well, keeping up with a lively 3-year-old. That, and other urgent work has kept me from doing any blogs for 6 weeks, I'm afraid.
Summer still clings on with some beautiful days, the trees in fine form. When painting summer trees in full leaf I find it easiest to do the foliage in two stages, firstly the lighter colour – usually green – and then the darker, shadow green. It pays to run your branches into the darker shadows, losing them naturally rather than in stark contrast. Make sure you stab little spots of the green outside the main boundary of the foliage as you see in the watercolour below, otherwise your foliage will appear lumpy.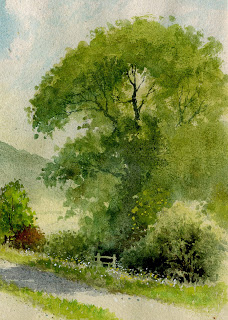 Just above the stile and slightly to the right you will see some light spots of yellowy-green. These were achieved with gouache, which being opaque will show up over dark areas, unlike pure watercolour, and here they suggest detail within a dark, featureless part of the tree. The stile and some branches in the bottom right-hand bush have been done with the negative method whereby the darkest passages have been painted with a fine no. 6 sable brush to avoid those features.
This painting is featured in my new book Landscapes Through the Seasons, to be published shortly by Search Press. Amongst other things, it includes introducing flowers into the landscape, managing summer greens, brushwork for foliage, the power of introducing spot colour, coping with riotous summer foregrounds, emphasising a sense of spring and fiery autumn colours. The book is actually an extension of my Winter Landscapes book, as so many have enquired about one on summer landscapes. You will find details on my website, www.davidbellamy.co.uk in a few weeks time.
Make the most of what is left of summer and make sure you gather as many subjects to paint in sketch or photographic form before winter arrives and we get any further lockdowns. Painting is such a wonderful antidote to Covid-19!!!