Sometimes it is a good idea to take a completely different approach to a painting. I normally start by painting the sky, background hills and trees and then painting the focal point, finishing with the foreground. There are practical reasons for this, as it is easy to smudge a focal point that you are pleased with when painting the area above it.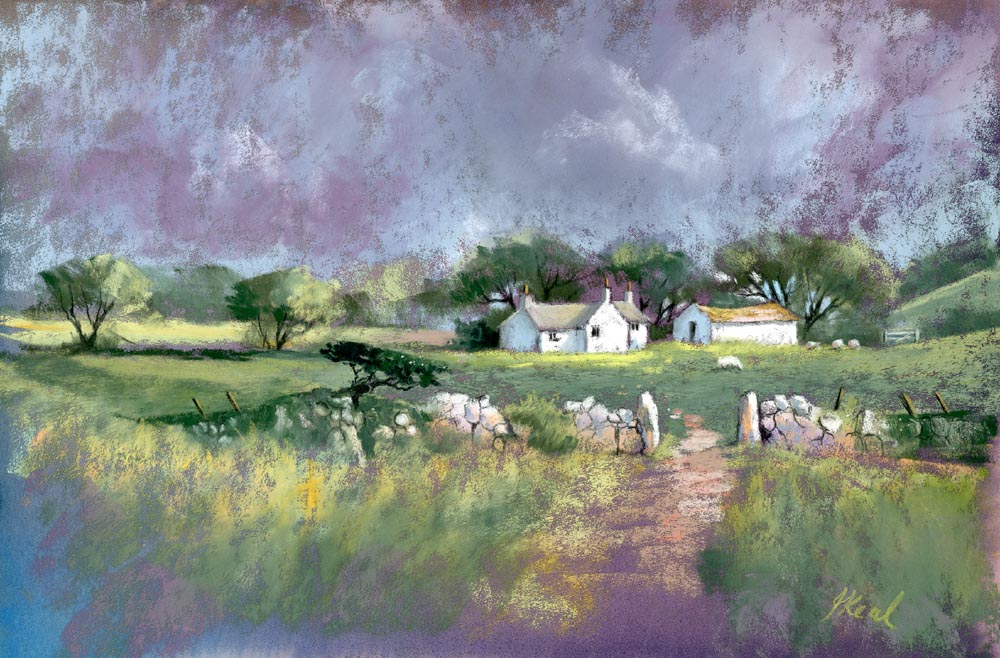 However, in the case of the painting illustrated here, a cottage in the Preseli hills, Pembrokshire, I began with the focal point, then painted the sky and trees ending with the foreground.  The surface I am using is Fisher 400 art paper which has been tinted with a purple ink wash. This gave me a dark background and allowed me to leave some of the surface unpainted giving a unity to the work.
By adopting this order of working I found myself working in a much looser way, for example adding the light between the branches of the trees instead of the other way around, and painting the trees around the buildings rather than painting the building over the trees.
So experiment with your approach to a painting and see what happens.
I will be running a Pastel Workshop in the White Horse Bookshop in Marlborough on 4th August, 2016. If you are interested in enrolling please contact Edwina Pearce on 01672 512071.at the White Horse Bookshop in Marlborough.