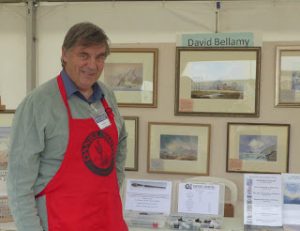 It was great to see so many familiar faces at Patchings Art Festival earlier this month, and exchange experiences with many of the artists and exhibitors. It's a wonderful show that seems to get better every year, so if you've not been then put it in your diary for next July. As well as demonstrating the fabulous Waterford papers in the St Cuthberts marquee I had a stand next door. With just Jenny and myself on the stand we were run ragged and completely sold out of how-to-paint books by the third morning. We also ran out of some of the exciting Daniel Smith watercolour paints, despite an emergency deliver from DSHQ!
We almost sold out of my new Arctic Light book as well. It's had some tremendous reviews, with its wide range of subjects, including several painting techniques that I haven't featured in books before. I particularly enjoyed creating the wildlife paintings, especially those where I spent quite some time with the animals, studying both their form and ways. My favourite poseur was the walrus, generally an amiable fellow on land, especially when basking in the sunshine, though he can be rather vicious in the water if he takes a dislike to you!
At a bull walrus colony on Svalbard I found these beasts in a great many fascinating poses – many more than shown here – and in order to feature as many of these as I could in the book I decided to render them as a montage on one large sheet of Saunders Waterford hot-pressed paper. This paper really enhances the detail in the walrus's extremely textured hide. It's really worth thinking about creating a montage where you wish to display a variety of actions or features in a scene, and perhaps add a little bit of humour at the same time. I also did a similar montage depicting the amazing actions of a single polar bear. Great fun!