We are blessed with so many stunning river and stream subjects of great variety in the UK, and whatever the weather may throw at us there is something truly pleasurable to sit beside a bubbling brook or fast-flowing mountain cascade. These features can also make excellent lead-ins to an interesting focal point, and there is something almost lifelike in a moving stream.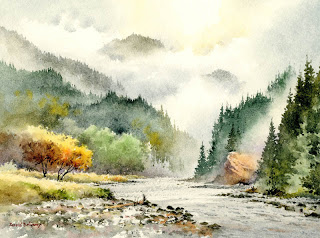 In this watercolour I've played down the actual river, to concentrate more on the surrounding forested hills and the large crag on the right. By introducing a lot of mist I've simplified the background, although there is still much detail visible. With a river or canal it will add a sense of mystery and interest if you have the further part of the river turning round a bend – we are all eager to see what's round the bend!
For the misty effect use plenty of water and build the scene up gradually, dropping the blue-greys or green-greys of the distant trees into a damp area to create lovely soft edges where tree masses appear and disappear into the mist. By placing hard-edged forms with strong tones such as those just above and to the left of the crag, in front of misty passages you will create a powerful sense of depth in the painting.
    On Monday 29th April Jenny Keal and myself will be demonstrating for Holderness Arts at Burton Pidsea Memorial Hall, Back Lane, Burton Pidsea HU12 9AN, from 10am to 3pm. I shall be doing a watercolour demonstration in the morning and Jenny will be carrying out a pastel demonstration in the afternoon. Information and tickets are available on  01964 670269 or from the Burton Pidsea shop. Tickets won't be available at the door on the day. Do come along if you can. We will have books, DVDs, art materials and a number of paintings for sale, and are happy to answer your painting questions. Click here for more information