I will be giving a talk and demonstration at The Galtres Centre, in the Market Place at Easingwold on Friday 26th April, and you are welcome to come and have a chat. The theme will be "Wild Serengeti" and I will be covering encounters and sketching with African wildlife. The event starts at 7.30 pm and for those using satnav the postcode is YO61 3AD. For tickets and information please ring the Galtres Centre on 01347 822472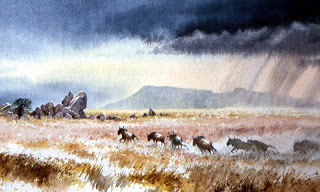 The scene shows wildebeeste startled by a lion during the annual pilgrimage across the Serengeti, when the line of wildebeeste runs from one end of the horizon to the other. The lion watched them with indifference, probably having eaten so many he couldn't face any more for a while! I enjoy working on a narrative like this, where there is more than just the visual image. To make the main animals stand out I deliberately simplified the ground directly behind them. Fast movement is depicted not just by blurring the legs slightly and placing them in running positions, but also by the angle and attitude of the body. This is at its clearest in the two beasts 3rd and 4th from the left, where they are moving away from the viewer and their bodies are slightly leaning over to the left as they turn away.
 The painting was done on Saunders Waterford 140lb rough paper.

Some folk may wonder why I don't use Facebook, even though there is an account in my name (which I don't use). I find it almost impossible as I live quite an action-packed life with little time to spare – in fact I don't paint so often these days because 21st-century life just is too demanding of one's time. Technology is supposed to make life easier for us, but I find it just adds an extra burden, being so incredibly slow and error-prone. It's much greater fun to be out in the wilds or at least brandishing the old-fashioned paintbrush somewhere nice and remote.