A belated Happy New Year to you all, and thank you so much to all of you who sent good wishes over Christmas. The Festive period was a bit of a blur this year, having to be in so many places, the highlight being taking little Gwinny to see her Mum performing in Cinderella in East Grinstead. Those Ugly Sisters seem to get worse every time I see them!
I love creating something of a narrative in a painting, and this is something well worth thinking about when you are working on a wildlife composition. After many visits to the Arctic polar bears have become a favourite subject of mine, combining a magnificent creature with stunningly dramatic scenery.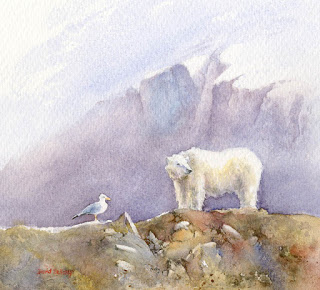 In this watercolour my aim was to put across the studied interaction between bear and bird. There were many gulls around, watching the bear with concern, and this one appears to be just a little too close for comfort, although it was some distance away. The gull is keeping a beady eye on the animal, while the bear attempts to look uninterested, yet ready to pounce when she spots a drop in the guard of the gull. These were magical moments watching these creatures play out their deadly game against a backdrop of savage glacier scenery. I've only suggested the background so that emphasis is placed on the antagonists, fading the glacial detail out as it goes behind the bear, and keeping the colours muted.
If you wish to see the original it's hanging in Beaulieu Fine Arts on the edge of the New Forest in Hampshire, tel. 01590 612089 www.beaulieufinearts.co.uk
Enjoy your painting in 2020 and try to get yourself well prepared early on for those artistic sojourns in search of new subjects. I shall shortly be off in search of some decent snow.