I am delighted to announce that my book "Painting with Pastels" which had been out of print for a few months has now been re-issued in a new edition entitled "Start to Paint with Pastels".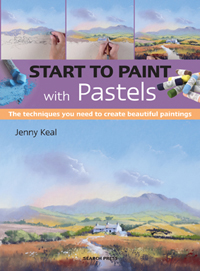 Painting with Pastels received some great reviews on Amazon and Artbookreview.net. but one of the few criticisms – that some of the step by step images were too small to see in detail – has been addressed in this new edition by adding 16 more pages and enlarging many of the stages.  Students will really benefit from the colour chart which now shows the precise colour references.
Start to Paint with Pastels brings you a wide range of landscapes with a strong emphasis on creating interesting moods and lighting effects. It is more than just a guide to producing a copy of what is in front of you, or a photograph. Injecting strong colours really makes your paintings sing and you will learn a lot more methods to improve your paintings from these pages. You will also find many useful tips on painting flowers.
If you are starting with pastel or feel you need to refresh your skills you will find this new book will inspire you try a range of exciting techniques for painting landscapes and flowers in pastel.
Quotes from reviews of the new edition:
'With pastel books being thin on the ground, any new edition is welcome and this is a rather excellent look at what the medium can do as well as a well-thought out manual on how to do it.'" Review of the previous edition by Artbookreview.net
Publishers review:- "The new edition of Jenny Keal's popular book Painting with Pastels is an inspiring and creative introduction to painting in this medium. Focusing on soft (chalk) pastels, this clear, simple-to-understand book encourages you to explore the materials and methods needed to get started with pastels. Jenny begins by introducing you to a variety of techniques, and looks at sketchbooks and photographs as a way of gathering source material. There are then five stunning step-by-step projects for the reader to choose from, covering a range of subjects from flowers to landscapes and coastal scenes, and designed to build on the basic skills covered in the earlier sections of the book. Here you will learn about creating atmosphere, colour, tone, composition and perspective, and before you realise it you will have all the skills you need to create your own beautiful pastel paintings."